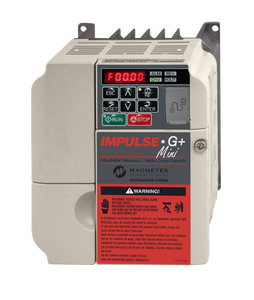 Online Course: Magnetek® IMPULSE®·G+ Mini Basic Programming | Part # OL-MAG-GMBP
DESCRIPTION
This course introduces the programming functionality of the low horsepower IMPULSE·G+ Mini adjustable frequency drive. During the course, you will gain an understanding of basic programming as you navigate through the keypad and parameter groups.
OBJECTIVES
Understand the IMPULSE·G+ Mini factory default parameter settings 
Review the IMPULSE·G+ Mini Initialization Set-Up parameters and selection to match a crane application requirement   
Explore Parameters changed by the X-Press Programming™
Enable commonly used programming features available in the "Basic Level" programming mode of the IMPULSE·G+ Mini drive
Explain the programming parameters available in the Basic Level IMPULSE·G+ Mini programming
Be able to save and recall a redundant copy of the IMPULSE·G+ Mini drive's "Verified" (modified) parameters
Use the multiple speed ranges available with the IMPULSE·G+ Mini drive and a single speed motor
Understand motion selection 
Explore programming of Speed Reference to match crane control type
WHO SHOULD TAKE THIS CLASS?
This course is ideal for anyone needing a fundamental understanding of IMPULSE·G+ Mini programming and operation. 

PREREQUESITES 

Completion of the online course Introduction to Magnetek® IMPULSE® AC Drives is required.
PLEASE NOTE
After registering and paying for the course, you will be automatically directed to our new LearnUpon LMS where you will be asked to create a password to set up your account. 
If you are not the student who will be taking the class, please email chris.krautsack@cmworks.com with the student's name and email address so that he can enroll your student. 
Please use Google Chrome for the best user experience. 
Technical Manual needed for reference can be found here
Length: Approximately 3.5 hours
Course Designers: Jon Walters, Mike Mizzell, Dennis Hankes