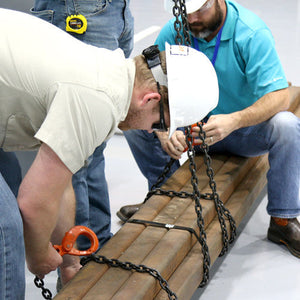 Qualified Rigger | 2-Day Workshop
Students will receive:

Rigging Gear Inspection Class Workbook (digital)
Basic/Advanced Rigger Class Workbook (digital)
Qualified Rigger Training Certificates
Signalperson Training Certificate
OSHA 1910.184
Rigging Field Pocket Guide
Rigging Handbook
Chain Inspection Kit
Day 1: Rigging Gear Inspection Training/Intermediate Rigging Signalperson
Participants learn the requirements of OSHA regulations and ASME guidelines for proper inspection procedures and documentation of rigging gear inspection. OSHA requires inspections be done by competent personnel selected by the employer. This training will enable employers to deem their employee competent. Students will be given the CMCO written and hands-on Inspection Exam to test knowledge of topics covered. 
During the course, attendees will learn how to properly select and use slings and rigging equipment. The course also covers hand signalperson requirements per OSHA 1926.1400, ASME B30.3 and ASME B30.5. Hands-on rigging training will be performed in conjunction with classroom training. Students will be given the CMCO Basic Rigging Exam and Signalperson Exam to test knowledge of topics covered.
Course topics include:
Rigging hardware

Below the hook lifting devices

Slings (chain, wire rope, synthetics, and metal mesh)

Lever hoist and chainfalls

Hitches

Limitations of rigging equipment

Knot tying: tagline use

Effects on working load limits

Rigging guide and chart interpretation

Signalperson training

Day 2: Master Rigger
Classroom work is applied in our hands-on rigging facility.
Course topics include:
Estimation of load weights

Center of gravity determination

Rigging block calculations

Sling tension calculations

Share of load weight calculations

Load drifting calculations