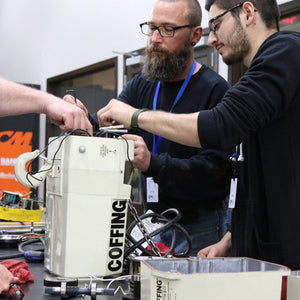 Chain Hoist Technician Certification | 3-Day Workshop
Market demand for highly qualified technicians grow every year while OSHA, ASME, CMAA and HMI maintenance, repair and testing standards get more stringent.
This intense workshop is designed to improve the skill level of hoist service and repair technicians through comprehensive training and testing on CM, Budgit, Chester, Coffing and Yale electric, air and manual hoists. The program will measure the skills necessary for competent job performance by testing the technician's knowledge of diagnostics and repair procedures per the latest industry standards and CMCO repair and service guidelines. Students will have the opportunity to receive certification on all CMCO brands as well as individual brands.
Why Get Certified?
Establishes technical competence and increases credibility

Ensures consistent quality service standards

Promotes safe product use

Recognizes hoist repair and service professionals in the industry
Course Topics:
Hoist identification

Basic air and electrical theory

Reading a wiring diagram

Understanding and troubleshooting the hoist's electrical system

Mechanical brake maintenance

Load chain inspection

Gearing

Motor and load brake inspection

Review of applicable industry standards: B30's, ASME HST Performance Standards, NFPA-70

Frequent and periodical maintenance and inspection procedures
Hands-On Training:
Complete disassembly, inspection and rebuild of over 18 electric, air and manual hoists
Student Will Receive:
Certificate of Course Completion

Flash drive with Technical Bulletins, Wiring Diagrams, and all Operator & Maintenance Manuals
Students will be given CMCO Certification Exams at the end of each day to test their knowledge of electric, air and manual hoist standards related to testing and inspection. Certification is good for 5 years.
All classes start at 8 am. Please bring the confirmation receipt that was emailed at time of registration.
Certification expires 5 years from completion of the hands-on class.