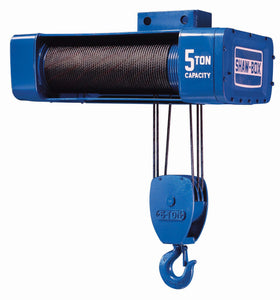 Online Course: CMCO Chain and Wire Rope Hoist Technician Certification | Part # OL-CHWR-C
NEW INTERACTIVE COURSE CONTENT! 

This online course is designed to provide certification on CMCO's chain and wire rope hoist inspection procedures.

This interactive online course is designed to provide certification on CMCO's chain and wire rope hoist repair and service procedures for a variety of hoists, including CM, Budgit, Coffing and Yale , and Shawbox chain and wire rope, electric, air and manual hoists. It will measure the skills necessary for competent job performance by testing the technician's knowledge of diagnostics and repair procedures per the latest industry standards and CMCO repair and service guidelines.
COURSE TOPICS:
Hoist identification
Chain Inspections
Hook Inspections
Manual Hoist Inspection
Load testing requirements
Understanding the hoist's electrical system (basic air and electrical theory)
Basic electrical theory
Reading a wiring diagram
Understanding and troubleshooting the hoist's electrical system
Mechanical brake maintenance
Sheaves and wire rope drum inspection
Load chain inspection
Wire rope anatomy and inspection
Gearing
Motor and load brake inspection
Review of applicable industry standards: B30's, ASME HST Performance Standards, NFPA-70
Frequent and periodical maintenance and inspection procedures
Certification expires 3 years from the class date. 
PLEASE NOTE:
After registering and paying for the course, you will be automatically directed to our new LearnUpon LMS where you will be asked to create a password to set up your account. 
If you are not the student who will be taking the class, please email Henry.Brozyna@cmworks.com  with the student's name and email address so that he can enroll your student. 
Please use Google Chrome for the best user experience.